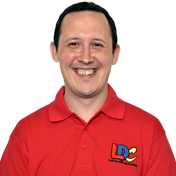 About me
Hi I'm Lee, I am a fully qualified Government Approved Driving Instructor (ADI) and I am passionate about road safety.
I have lived in Long Eaton all of my life and I have excellent knowledge of the roads around Nottingham. My interests include Football, Squash and running. I have often thought about becoming a driving instructor over the years but it wasn't until I started mentoring and training in my previous job that I really decided to go for it.
I operate my business under the LDC franchise which means I am governed by LDC's stringent customer care and tuition standards plus I am proficient in delivering the LD System of driving tuition.
Lessons are always conducted in a calm, friendly and relaxed manner as I firmly believe in making pupils feel at ease during lessons. Whether you are choosing driving lessons for yourself or for a member of your family, its vital that you make the right choice.
Well I hope this gives you a brief idea about me so please feel free to click here to "Contact me"